Lost In A House Of Mirrors Part 2
November 20, 2018
Part 2 of 2
Please enable javascript to listen this audior.
Summary
Many people are deluded, seeing themselves as they want to, not as they are. One cause of this can be refusing to listen to the honest critiques of others. In this message we find lessons from the book of James on self-perception and on what it means to hear correctly.
Today's Offer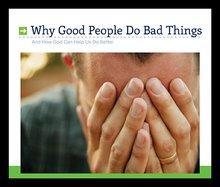 Why do good people often act in such selfish, destructive and evil ways? This series helps us face the truth about ourselves and then introduces us to the marvelous grace and mercy of God. Here we see our self-deceptions, our unwillingness to see our selfishness, and our uncanny ability to deny how we are perceived by others and by God. Here is hope for those who have denied their deep need for God's intervention and grace.
---
Receive this series on five CDs as our thank you for your gift.