Finding Community In Fellowship Part 1
November 18, 2019
Part 1 of 2
Please enable javascript to listen this audior.
Summary
Some people want to live solely within the four walls of a church, fearing to go out. But God calls us to display the love of Jesus and proclaim the good news outside of the church. Are we interested in serving the world, that it may be convicted of sin and led to repentance? Do you sense this call?
Today's Offer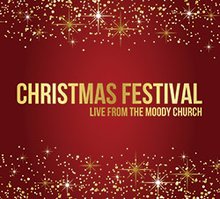 Christmas Festival—Live from The Moody Church is a wonderful collection of beloved Christmas songs performed by The Moody Church Choir with orchestra. It's the "best of the best" taken from the treasury of music recorded here in our sanctuary over the decades. This music will delight, inspire, and enrich your Christmas.
---
To request today's sermon series on CD instead of this Music CD, please click here.
To learn more about Endurance Partners, please click here.