Suffering For Christ Part 3
November 18, 2019
Part 3 of 4
Please enable javascript to listen this audior.
Summary
Paul wrote to Philippian believers while he was in Roman chains. His counsel is blunt: "it is given to us to believe in Jesus and also to suffer for His sake." Many Christians like the abundant life, but cringe when suffering comes. Yet this is our calling as believers.
Today's Offer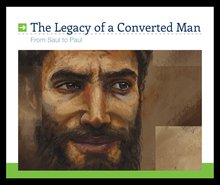 The Apostle Paul was crafted for God's purposes. He was God's agent who would spread the Gospel to the nations of the Earth. Yet this was not a position of grandeur and glamour. As Paul testified before all who would hear him, he was assaulted with regularity, suffering for the cause of Jesus Christ. In this series of six sermons, Pastor Erwin Lutzer provides a brief overview of God's magnificent ministry through the work of Paul, explaining how we too can join in Paul's service.
---
This series contains 6 sermons on 3 CDs.