Dressed For Battle - Part 2 of 2
September 15, 2023
Please enable javascript to listen this audior.
Summary
Sometimes it's best to get back to basics. For the believer, the basics are Christian character and discipline. In this message from Ephesians 6, Pastor Lutzer describes the qualities we cling to and the godly routines we persist in. Let's consider the armor of God we're called to wear every day.
Today's Offer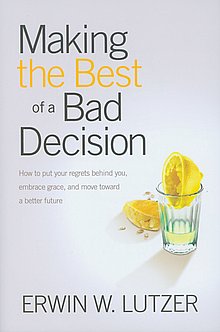 Making The Best Of A Bad Decision
In Making the Best of a Bad Decision, Pastor Lutzer shows that no matter how many wrong paths you have taken, God's grace provides a right path for the future. Whether you worry you've married the wrong person, struggle with poor financial choices, wish you'd chosen a different profession, or have made a choice that's hurt someone you love, you'll be amazed at how God can use that bad decision to still bring good to you and others.
---
This book from Pastor Erwin Lutzer can be yours as our thank you for your gift.