Rescued From Moral Self-Deception Part 1
March 26, 2021
Part 1 of 2
Please enable javascript to listen this audior.
Summary
Reading the book of Romans is like shining a light into darkness. In its pages we see ourselves as we really are. We find that, apart from God's grace, we are capable of awful things. In fact, we're morally bankrupt compared to our Creator. In this message we probe the darkness of the human heart, and the amazing light God shines into those hearts that come to believe in Jesus.
Today's Offer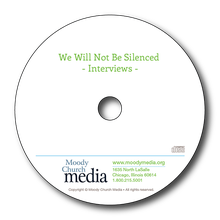 In this brand new resource, Pastor Lutzer is interviewed about his new book We Will Not Be Silenced: Responding Courageously To Our Culture's Assault On Christianity. It's no secret that our culture has turned away from God. And Christians are facing increasing hostility as they seek to be faithful to God's Word. In these interviews, Pastor Lutzer explains why he wrote this book and the importance of both humility and courage as we represent Christ to a hurting world.
---
This resource contains 4 interviews on 2 CDs.