Today's Program
When You're In A Tangled Web – Part 1 of 2
Please enable javascript to listen this audior.
Summary
The lies we create entangle us in unintended consequences. Asa was a good king who found this out the hard way, and he failed near the finish line. In this message, Pastor Lutzer reminds us that the consequences of continuing in a bad decision always outweigh the temporary hardships of repentance. It's time we came clean.
Today's Offer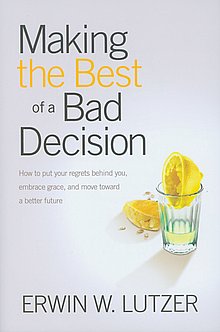 Making The Best Of A Bad Decision
In Making the Best of a Bad Decision, Pastor Lutzer shows that no matter how many wrong paths you have taken, God's grace provides a right path for the future. Whether you worry you've married the wrong person, struggle with poor financial choices, wish you'd chosen a different profession, or have made a choice that's hurt someone you love, you'll be amazed at how God can use that bad decision to still bring good to you and others.
---
This book from Pastor Erwin Lutzer can be yours as our thank you for your gift.