When You Make A Selfish Choice - Part 1 of 3
September 14, 2023
Please enable javascript to listen this audior.
Summary
Because our sinful desires are so unrelenting, we often believe irrational lies. King David secretly sinned against another man's wife, a sin which became very public. In this message, Pastor Lutzer warns against the four downward steps David took towards sexual immortality. What causes us to give into temptation so selfishly?
Today's Offer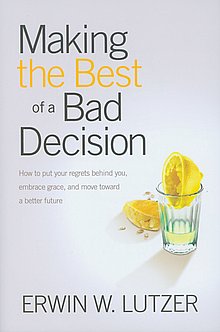 Making The Best Of A Bad Decision
In Making the Best of a Bad Decision, Pastor Lutzer shows that no matter how many wrong paths you have taken, God's grace provides a right path for the future. Whether you worry you've married the wrong person, struggle with poor financial choices, wish you'd chosen a different profession, or have made a choice that's hurt someone you love, you'll be amazed at how God can use that bad decision to still bring good to you and others.
---
This book from Pastor Erwin Lutzer can be yours as our thank you for your gift.