The Unchanging God Part 3
May 22, 2019
Part 3 of 4
Please enable javascript to listen this audior.
Summary
Many people think God is more tolerant now than He was in the days of Old Testament Israel. Christians don't stone people for sin like the Hebrews did. So has God changed? In this message, we learn that God has not changed His mind toward sin.
Today's Offer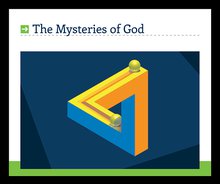 Throughout the Scriptures, God reveals Himself—His attributes are on display all around us. In this series, Pastor Erwin Lutzer takes us on a tour filled with mysteries and questions. We will be escorted into eternity, where we'll try to grasp God's timeless nature and fathom His astonishing decrees and ponder the paradox of His tri-unity.
It's impossible to view God in all of His glory and not be changed. So prepare to be transformed as Pastor Lutzer unravels the mysteries of God.
---
This series contains 8 sermons on 4 CDs.
---
To learn more about Endurance Partners, please click here.