The Justice Of God Part 3
May 28, 2019
Part 3 of 4
Please enable javascript to listen this audior.
Summary
Many people can't accept the idea of God judging unbelievers eternally in hell, especially those who've never heard the Gospel. Fairness would seem to demand another solution. So why does the justice of God require such severe punishment? Is spreading the Gospel crucial?
Today's Offer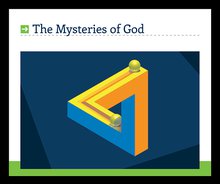 Throughout the Scriptures, God reveals Himself—His attributes are on display all around us. In this series, Pastor Erwin Lutzer takes us on a tour filled with mysteries and questions. We will be escorted into eternity, where we'll try to grasp God's timeless nature and fathom His astonishing decrees and ponder the paradox of His tri-unity.
It's impossible to view God in all of His glory and not be changed. So prepare to be transformed as Pastor Lutzer unravels the mysteries of God.
---
This series contains 8 sermons on 4 CDs.
---
To learn more about Endurance Partners, please click here.