The Word Of God Has Visited Us
November 24, 2019
Please enable javascript to listen this audior.
Summary
The Word of God has been given to believers in two forms. We have the written Word in the Bible, but we also have the Word made flesh, as Jesus reveals to us the Father in heaven. He was sent by the Father to change the lives of all who come to Him for salvation.
Today's Offer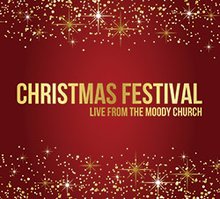 Christmas Festival—Live from The Moody Church is a wonderful collection of beloved Christmas songs performed by The Moody Church Choir with orchestra. It's the "best of the best" taken from the treasury of music recorded here in our sanctuary over the decades. This music will delight, inspire, and enrich your Christmas.
---
To request today's sermon series on CD instead of this Music CD, please click here.
To learn more about Endurance Partners, please click here.