The Worst Decision Ever Made - Part 4 of 4
September 04, 2023
Please enable javascript to listen this audior.
Summary
When Adam and Eve sinned, the paradise of Eden turned sour, and man's fate was sealed. Life would be hard. In this message, Pastor Lutzer provides three hopeful principles embedded within God's judgment after the original sin. Were it not for the grace of a redeeming God, there would have been no hope.
Today's Offer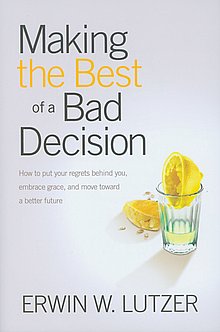 Making The Best Of A Bad Decision
In Making the Best of a Bad Decision, Pastor Lutzer shows that no matter how many wrong paths you have taken, God's grace provides a right path for the future. Whether you worry you've married the wrong person, struggle with poor financial choices, wish you'd chosen a different profession, or have made a choice that's hurt someone you love, you'll be amazed at how God can use that bad decision to still bring good to you and others.
---
This book from Pastor Erwin Lutzer can be yours as our thank you for your gift.