Breaking Soul Ties Part 1
June 16, 2022
Part 1 of 3
Please enable javascript to listen this audior.
Summary
Sex is more than a one-night stand. It creates a bond that unites us to another in purpose, desire, and relationship. What effect does a sexual relationship outside of marriage have on us? In this message, we examine the spiraling consequences of a soul bond. Let's discover how to break those bonds. 
Today's Offer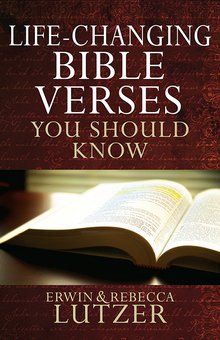 Life-Changing Bible Verses You Should Know
Discover the Power of God's Word in Your Life
Do you desire to experience the life-changing power of God's Word? Do you long to hide God's Word in your heart but don't know where to start? Do you want to know what God has to say about the things that matter most?
In this book, Bible teacher Erwin Lutzer and his wife Rebecca have carefully selected more than 100 Bible verses that speak directly to the most important issues of life. They explain the very practical ways those verses can encourage and strengthen you in every possible circumstance. You will find a treasure full of God's truth to guide you and transform you in your daily walk with Him.