Today's Program
The Light Redeems Us
Please enable javascript to listen this audior.
Summary
Christmas is far more than gift giving, far more than the story of a baby born in a manger. It's really a celebration of God's intervention in human history. To a world lost in darkness, the Bible tells us that a great light was seen, a light personified by the Lord Jesus Christ. He bought our redemption, only possible because Jesus came to this earth to live and then die as a sacrifice for our sins.
Today's Offer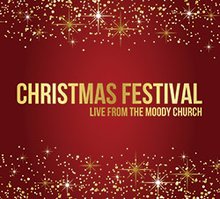 Christmas Festival—Live from The Moody Church is a wonderful collection of beloved Christmas songs performed by The Moody Church Choir with orchestra. It's the "best of the best" taken from the treasury of music recorded here in our sanctuary over the decades. This music will delight, inspire, and enrich your Christmas.
---
To request today's sermon series on CD instead of this Music CD, please click here.
To learn more about Endurance Partners, please click here.